Urvashi Rautela React On Rishabh Pant Accident Instagram
Urvashi Rautela React On Rishabh Pant Accident:  Hey guys once again come to  shared about Rishabh Pant Car Accident news regard, We have already shared a article about accident Rishabh Pant was returning from Delhi to Uttrakhand when he was involved in a terrible car accident. On Friday, December 30, 2022 at around the Delhi-Dehradun highway, but recent report come out by hospital.Many of relatives and followers shared comment on social; media also send Urvashi Rautela Reaction pray regard Rishabh Pant Accident but this is not clear because she is not mentioned his name but many of sources lets her comment for Rishabh Pant. hey viewers or followers not much more desipirate regard Rishabh Pant accident according to official report He is well in hospital some injured come in his head but now he was feel good It' verry good moment for Rishabh Pant followers and family you can enjoy full joy of new year.
Urvashi Rautela React On Rishabh Pant Accident
Urvashi posted a Friday photo from one of her photo shoots to Instagram and captioned the picture, "Praying #love @UrvashiRautela#UR1″ with a heart emoji and a pigeon emoji. She didn't give the name of the person she was praying to.
Many people prayed in the comments section for Rishabh to recover. Others wondered why Urvashi posted a new photo of herself to pray with him.
Rishabh Pan was in a serious accident on his way back from Delhi to Roorkee when his car collided against the divider at the Narsan border near Hammadpur Jhal. The accident occurred on the Delhi-Dehradun highway. He was driving the car, and was not with anyone else. His injuries include injuries to his forehead, back and leg. The site photographs show that the car was badly burned. 
Urvashi Rautela has shared a post after Rishabh Pant's accident.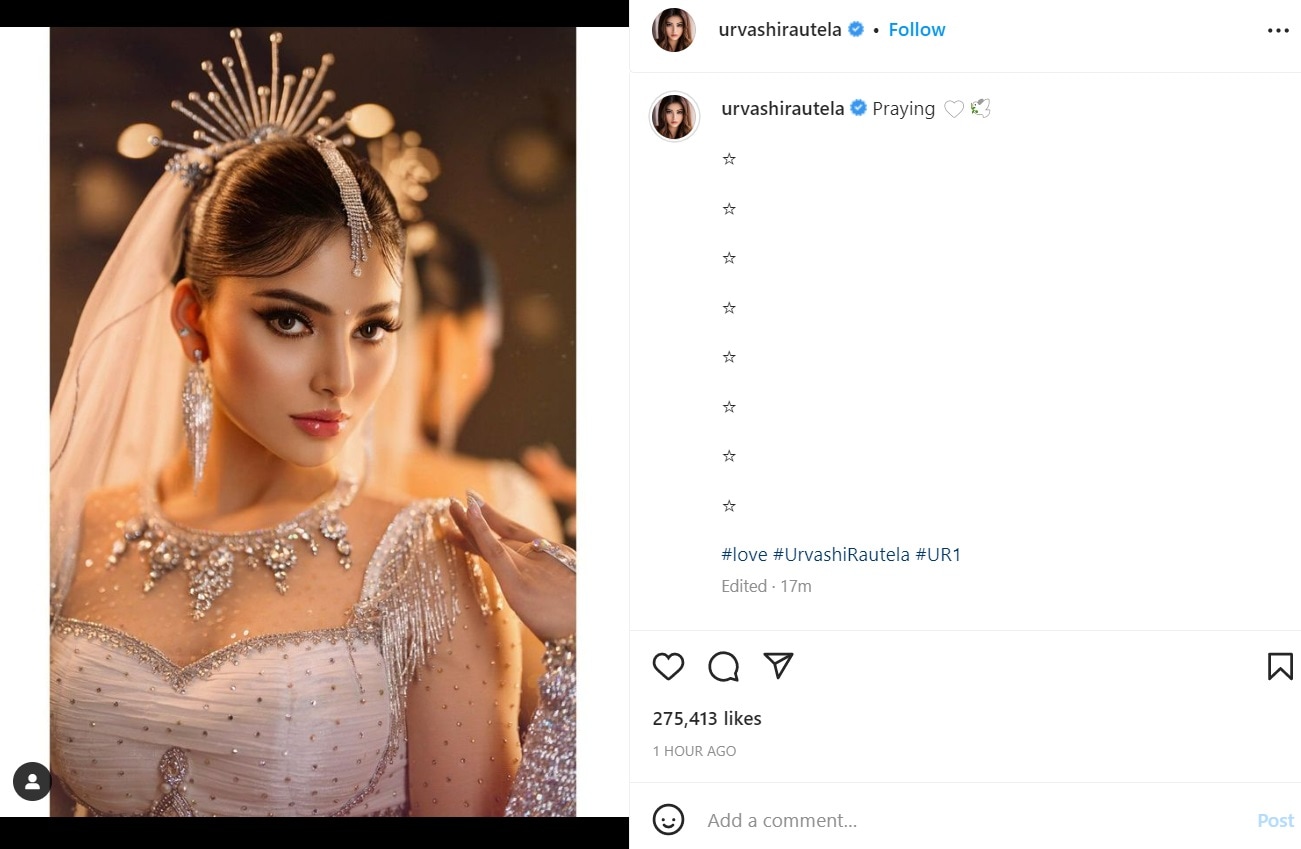 Rishabh Pant Car Accident Full video goes viral on social media
According to reports, the fatal accident occurred when the batsman was the only one in the car at the time. Ashok Kumar, Uttrakhand Police General Director General, stated that Rishabh broke through the windscreen in order to escape the car that caught on fire. The cricketer sustained injuries to his head, knees, and shins, even though he was able to escape the car that caught fire. After speculation that his leg might have been fractured, reports say that he was transferred to Max Hospital in Dehradun.
According to reports, the incident occurred near Hammadpur Jhal near the Narsan boundary in Roorkee close to the Delhi-Dehradun highway. Many videos showing the horrifying accident circulated on social media. Rishabh can be seen in one of these videos covered in blood while the locals assist him to get to a side. His car is also seen getting engulfed by fire in the background. Pant is also seen lying on the floor, naked. Many photos featuring Pant injured have been shared on Instagram and Twitter, in addition to video clips.
His fans and well-wishers were shocked to hear about the tragic event. Everyone is praying for the quick recovery of the cricketer. The news is spreading that the Indian Team star was heading to Roorkee. According to sources, Pant was on his way home from Delhi when he was involved with a terrible car accident. Rishab said that Pant was driving the car at the time of the accident and had taken a nap, which unfortunately led to his car colliding against the divider.
The incident reportedly happened near Hammadpur Jhal, near the Narsan boundary of Roorkee near the Delhi-
The vehicle caught fire quickly, as can be seen on the viral CCTV footage. The cricketer was able to remove the windscreen from the car and escaped the flames. Pant was not recognized by the locals at first so they dialed 108 to admit him to the hospital. He sustained serious injuries to his head and back. According to reports, the BCCI will pay for his treatment.
Read More :