RIP Pele: Funeral Of Football Legend, Tweet Fame Personality
RIP Pele: Hey viewers today a very schocking news for all over world great Brazil Footballer Pele died on Thursday, aged 82, after a long battle with cancer in Hospital manby of days illness he died. The Associated Press confirmed the news, saying: "Brazilian legend Pele, 3 FIFA World Cups winner  and standard-bearer for 'the beautiful game,' has died at 82."One of the greatest players of all time, Pele is the only man to have won the World Cup on three occasions, 1958, 1962 and 1970 tournaments, During a 21-year playing career, he is said to have scored 1,283 goals in 1,363 senior matches for clubs and country.
After death of great Pele all over world sports, politician, actor and all over world followers scattered condolence and express their sorrow on social media. Great Pele
Tweet RIP Pele
International Olympic Committee president Thomas Bach
Pele gets the Olympic Order in his home town Santos from #Ioc President Thomas Bach pic.twitter.com/lMHk0zJkJF

— IOC MEDIA (@iocmedia) June 16, 2016
With Pele's passing, the world has lost a great sporting icon. As I could experience myself, he was a true believer in the Olympic values and a proud carrier of the Olympic flame. It was a privilege to present the Olympic Order to him.
BRAZIL STRIKER NEYMAR
"Before Pelé, 10 was just a number. I've read this phrase somewhere, at some point in my life. But this sentence, beautiful, is incomplete. I would say before Pelé football was just a sport. Pelé has changed it all. He turned football into art, into entertainment. Gave voice to the poor, blacks and mostly: Gave visibility to Brazil. Soccer and Brazil have raised their status thanks to the King! He's gone but his magic remains. Pelé is FOREVER!!"Neymar said.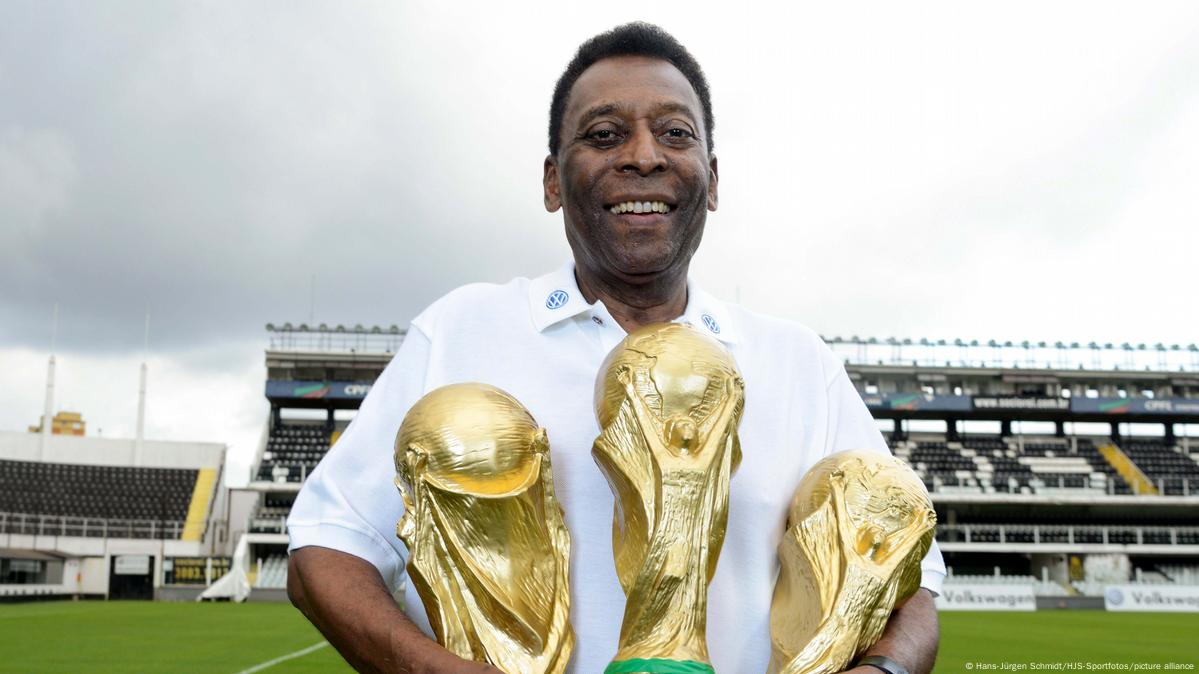 Lionel Messi
Rest in peace, Pele.
FIFA president Gianni Infantino
Gianni Infantino Tweet
Cristiano Ronaldo
My deepest condolences to all of Brazil, and in particular to the family of Mr. Edson Arantes do Nascimento. A mere "goodbye" to the eternal King Pele will never be enough to express the pain that embraces the whole world of football at this moment. An inspiration for so many millions, a reference of yesterday, of today, of always.
Kylian Mbappe
Mbappe said his legacy will never be forgotten. "The king of football has left us but his legacy will never be forgotten. RIP King,"
Germany's World Cup winner Franz BeckenBauer
Football lost the greatest in its history today – and I lost a unique friend. Football will be yours forever. Rest in peace Pele.
Lewis Hamilton
Lost a legend today. Thank you for sharing your talent, genius and love with us. @Pele's legacy will inspire us forever and always.
Usain Bolt
A Sporting Legend. Rest in Peace King Pele.
Manchester United
Rest in peace, Pele. Thank you for the joy you brought to football fans around the world.
Liverpool
A legend, icon and true great of the game who will forever be remembered. Rest in peace, Pele.
Real Madrid
Real Madrid CF, its President and its Board of Directors deeply regret the death of world football legend Edson Arantes do Nascimento, Pele, one of the greatest players of all time.
Real Madrid would like to express its condolences to his family, his loved ones, his clubs, the Brazilian Confederation and all football fans in Brazil and around the world.
Barcelona
Barca deeply regrets the death of "Rei" (King) Pele, one of the greatest players of all time. With him, football became greater. May he rest in peace.
Wales Football Association
Pele broke our hearts in 1958 to score his first World Cup goal to knock Cymru out. Today our hearts are broken again. A true sporting legend. Our thoughts are with the people of Brazil and the world football family.
France coach Didier Deschamps
With the passing of Pele, football has lost one of its most beautiful legends, if not the most beautiful. Like all legends, the King seemed immortal. It made people dream and continued to make generations and generations of fans of our sport.
Who hasn't dreamed, as a child, of being Pele? With his number 10, he put his technical virtuosity, his audacity, his creativity at the service of his teams and especially that of Brazil with whom he won three World Cups.
Pele was the alliance of beauty and efficiency. His talent and track record will remain forever etched in our memories. To his family, loved ones and the Brazilian people, I extend my sincere condolences and sympathy. The king will remain the king, forever.
Uruguay striker Luis Suarez
His legacy will be eternal. Rest in peace, king.
US President Joe Biden
For a sport that brings the world together like no other, Pele's rise from humble beginnings to soccer legend is a story of what is possible. Today, (first lady) Jill and I's thoughts are with his family and all those who loved him.
French president Emmanuel Macron
The game. The king. Eternity.
Former US President Barack Obama
Pele was one of the greatest to ever play the beautiful game. And as one of the most recognizable athletes in the world, he understood the power of sports to bring people together. Our thoughts are with his family and everyone who loved and admired him.
Argentina President Alberto Fernandez
One of the greatest footballers in history has left us. We will always remember those years when Pele dazzled the world with his skills. A big hug to his family and to the people of Brazil who will carry him in their hearts.
Rafael Nadal
Today a great of world sport is leaving us once again. A sad day for the world of football, for the world of sport. His legacy will always be with us. I didn't see him play, I wasn't that lucky, but I was always taught and told that he was the King of football. Rest in Peace! O Rei!
Read More :